You are here
Art or utter sociopathic depravity? A Yale JAP (Jewish American Princess) induce forced miscarriages for art project
Wikipedia definition of Jewish American Princess. Urban Dictionary definition.
There are allegations including the artist herself that this performance art, if one can call that, by artificial insemination for the express purpose of aborting fetuses through forced miscarriages to develop and exhibit an art project, is a hoax.
Personally, reading the story made me feel ill. While the topic of abortion in the U.S. is debatable, this act of depravity, whether fake or real, is an obscenity in and of itself.
And this provide further proof the Jewish race -- of Ashkenazi Khazar descent, if this woman indeed herit the blood of filthy brutes -- perpetuate the reinforcement of stereotype as selfish, narcissitic, avaricious and utterly amoral psychotic race with the ideological view of racial supremacism in the manifestation of Zionism as the righteous politicio-cultural movement.
While abortion issue is contentious in the American society, it is abhorrent in Islamic nations because life is precious from conception. And this woman is so amoral in abusing the responsibility of human reproduction -- not accidently but deliberately -- that she is not a mere human being but a monster who (unwittingly or knowingly) fuel anti-Semitic sentiment in a self-serving agenda to transform the concept of responsibility into repulsive, grotesque art that invite not praise but contempt as obscene and promoting immoral behavior akin to the blasphemous display of disrespect towards religion such as the infamous "Piss Christ" art.
Of course, it's free speech -- even when living fetuses with beating hearts are murdered in modern human sacrifice in the deliberate attempt to make an ambitious art project, wherever abortion -- even induced miscarriages for artistic purpose -- is legal.
What my argument come down to is personal responsibility in socially proper morals, depending on the nature and circumstance of the act allowed by the loophole in law but contemptible by the public at large.
____________________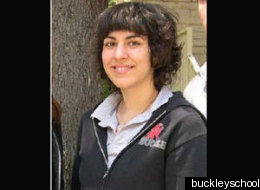 Aliza Shvarts, a senior art major at Yale, artificially inseminated herself "as often as possible" while periodically taking abortifacient drugs to induce miscarriages for her senior art project. The Yale Daily News has more details on Aliza Shvart's miscarriage art project.

Beginning next Tuesday, Shvarts will be displaying her senior art project, a documentation of a nine-month process during which she artificially inseminated herself "as often as possible" while periodically taking abortifacient drugs to induce miscarriages. Her exhibition will feature video recordings of these forced miscarriages as well as preserved collections of the blood from the process....

The display of Aliza Shvarts' project will feature a large cube suspended from the ceiling of a room in the gallery of Green Hall. Shvarts will wrap hundreds of feet of plastic sheeting around this cube; lined between layers of the sheeting will be the blood from Shvarts' self-induced miscarriages mixed with Vaseline in order to prevent the blood from drying and to extend the blood throughout the plastic sheeting.

Aliza Shvarts will then project recorded videos onto the four sides of the cube. These videos, captured on a VHS camcorder, will show her experiencing miscarriages in her bathrooom tub, she said. Similar videos will be projected onto the walls of the room.

Watch video of Aliza Shvarts at a Soapbox Event at Federal Hall In New York on April 5th. "Anybody passing by the Federal Hall on Saturday afternoon could come inside and deliver a speech."

Aliza Shvarts, who graduated as valedictorian of the Los Angeles Buckley School, wrote about first getting her period in the seventh grade.

We were all sitting on the floor of the classroom to watch the movie and I remember attempting to discreetly lie on my belly in hopes that it might go away. Facedown in the scratchy carpet, I tried to figure out was happening to me. My two guesses were 1) appendicitis, and 2) my period. As the Mings were reforming the Chinese Civil Service Examinations, I weighed my options: if it was appendicitis, then either I would have to go to the hospital, or just die, and not have to come back to school in either instance. Of course, if I had gotten my period, then that was another matter--that meant a lot more.

A photo of Aliza Shvarts was found in a 2004 newsletter (PDF) sent out by her high school to announce that she would be getting an award for "good leadership and good citizenship" at her graduation ceremony. [...]
_______________
For more,
Christian perspective: What's the Problem With Yale Student, Aliza Shvarts, and "Abortion as Art"?
Fox News Channel: Yale Officials Conclude Student's Shocking Claim of 'Abortion Art' Was 'Creative Fiction'